ZOLGE
Catholic Day 12″ (Dogma Records, 1987)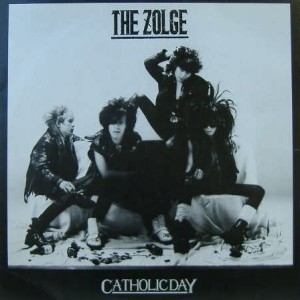 Tracklist:
1) Catholic Day (Wild Mercy Version)
2) Holy Passage
3) God Bless Me
4) Suicidal Memory / Just is Tonight
Lineup:
Haruhiko Ash – Lead Vocals
Taki – Guitar
Hideki – Bass Guitar
Iyo – Drums
The Zolge has been one of the most original and greatest new wave / punk bands of Japan. Formed in the early '80s (their first release is a 7″ dated back to 1983) and led by the charismatic Haruhiko Ash, Zolge proposed a very personal blend of punk, hardcore, new-wave and gothic music, all of these blended with Ash's powerful persona. Zolge was one of the very few Japanese of the day that managed to make it in America and play in NY. Zolge also has been a great friend of a lot of important '80s acts, like Hanoi Rocks, the Damned, Patricia Morrison and most notably Stiv Bators, with whom had a great and lasting friendship. So great that after Stiv's death, Stiv's widow gave a pendant to Haruhiko a pendant with some of the Stiv's ashes!
The band disbanded in 1993, but Ash remained active in the fashion and entertainment industry, before returning with a new musical project, Eve of Destiny, in the early 00s, which disbanded around 2005-2006. Nothing has been heard from Ash's since…
This 1987 EP is their fourth offering (after two 7″ and a LP). It has only four tracks, but all of them are very remarkable and personal.
The first two tracks are the ones which have the biggest punk influences (in particular the Damned and a bit of hardcore), mixed with a bit of gothic, dark and atmospheric touches as well. The two blend very well together and don't feel forced of phony at all, nor they feel divided: they are perfectly mixed together, a work of great taste that only few bands managed to accomplish.
The sound is much more refined and polished of most of punk bands, the  structures of the songs are not banal and finely crafted and the band shows a fine melodic taste that make it stand out of the crowd.
The final two tracks are maybe the most interesting of the EP: God Bless Me is the most Lords of the New Church influenced track of the release (this is especially notable in the chorus) led by a very groovy funky bass line and catchy guitars.
The final track is maybe the masterpiece of this EP: a long, suffered and anthemic track in the vein of Sisters of Mercy and Fields of Nephilim, mixed with some bluesy classic rock influences, featuring a strong dramatic crescendo and a great anthemic and alluring quality. The song is led by some tasteful arpeggios and melodies and shows the band's talent at it's best.
I hope to have helped to shed some light on this great obscure band.