KORY CLARKE
Opium Hotel (Livewire, 2003)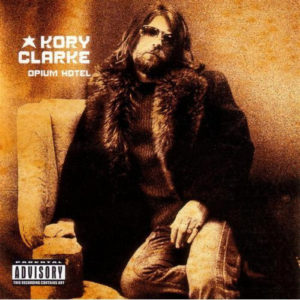 Tracklist:
01) Jihad Vs. McWorld
02) Corporate Genocide
03) Without Guns
04) Yummy House
05) Reverse
06) Mr. Harris
07) Religion Buzz
08) Dream Japan
09) Penguin Song
10) Boom Ka Boom
11) Opium Hotel
12) The City Today
13) Sky High
14) Another War
Lineup:
Kory Clarke (others are not known)
This album is so odd and so obscure that it deserves a review.
First of all, let's say that this work is a very mixed bag, completely anti-commercial, it has a lot of different styles in it (spoken poetry, electronic/ambient beats, plain fuzzy rock n' roll, blues, weird dissonant experiments…) but it refuses to stick to a precise one, making it orphan of a specific public. The songs are too experimental and electronic to be captivating for the majority of Warrior Soul fans and too angry and metal to appeal to the average trip hop/ambient listener.
The quality of the songs is very mixed, too: we have very good tracks (for example, the title track, Religion Buzz or Sky High) against confused or plain terrible ones (Boom Ka Boom, for one).
However, what makes Opium Hotel an interesting listen and writing about it worthwhile, is it's sincere quality. It is, for the good and the bad, a sincere portrait of Clarke's obsessions, burning energy and rage with their corresponding moments of introvert melancholy. In fact the disc hosts some of the most intimate songs ever penned by him, like the beautiful title track, about depression and drugs, or the sense of feeling lost and in awe of "Sky High".
Clarke is obsessed by the tiranny and lies of mega-corporations, the constant struggle of society and world, by looking into the deepest gutters and searching the forgotten ones, and also is an eternal wanderer, a constantly restless man. A perpetual rebel, against the world, the power and himself.
These themes are the ones that obsessively drove and still drive his artistic efforts from the great success of Warrior Soul (his most greatest accomplishment, for sure) to the other bands he took part into (Trouble, Dirty Rig, Space Age Playboys…). In portraying this Opium Hotel succeeds, in spite of the mixed quality of the songs. And for this, it's an interesting listen if you are in the correct mindset.
I remember attending a Clarke gig some time ago. He was full of energy and, in the middle of the set of the band that opened for him, suddendly he jumped on stage, took the mic, helped scream some of the choruses and then kicked the drumset and dropped down like nothing happened. I was half amazed and half scared about this primal energy and total recklessness. For sure, rockstars like Clarke are a dying breed…
Selected Tracks:
The whole album is available on youtube. Here are what I consider the three best songs on the disc, and among the most rapresentative of the album diversity too.
Opium Hotel
Sky High
Religion Buzz