MICHAEL MONROE
Sensory Overdrive (2011, Spinefarm Records)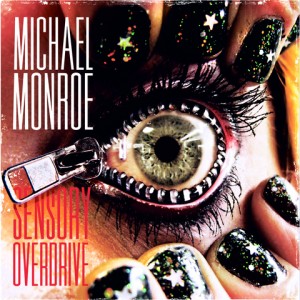 Tracklist:
01. Trick Of The Wrist
02. '78
03. Got Blood?
04. Superpowered Superfly
05. Modern Day Miracle
06. Bombs Away
07. All You Need
08. Later Won't Wait
09. Gone, Baby Gone
10. Center Of Your Heart
11. Debauchery As A Fine Art
Lineup:
Michael Monroe – Vocals, sax, harmonica
Ginger – Guitar
Steve Conte – Guitar
Sami Yaffa – Bass
Kalle Rosqvist – Drums
Michael Monroe's last work, Sensory Overdrive, is a short (it clocks
around 30 minutes) but intense rock n' roll album, with an intimistic
flavour, like some other previous Monroe's albums like Peace of Mind.
The songwriting is firmly rooted in the ground from which the old Hanoi
Rocks erupted: catchy retrò-flavoured melodies, the glam-punk of the New
York Dolls and Stooges, 50?s melodies and some dirty, intense and
romantic ballads. The new band's member, Ginger, contribuites positively
in shaping the band sound, because of his songwriting skills and his
tasteful guitar playing.
The production is thick and modern and is successful in giving a
dirty and raw sound without sacrificing power and precision, without
falling into the deprecable "fake garage" sound that plagues the music
market nowadays.
The album's tone is somewhere between bitterness and melancholy,
Monroe takes a look back at his past, both in it's light and dark tones,
and finds in it the force to carry on and build a better future. The
ballads are bitterly romantic, love is seen as a double edged sword,
beautiful but also dangerous, it has the power both to destroy old
illusions and false thoughts but also it can create new illusions from
which comes new suffering.
The last tracks of the disc offer some tasty guests: Lemmy from
Motorhead being the most notable. In conclusion, it's a very good and
balanced album, even if it's not innovative at all. The only serious con
can be found in it's shortness, the album clocks only 30-35 minutes.
Selected Tracks:

'78


All You Need