CHEAP AND NASTY
Cool Talk Injection (Pony Canion, 1994)
Page last updated on 05 June 2016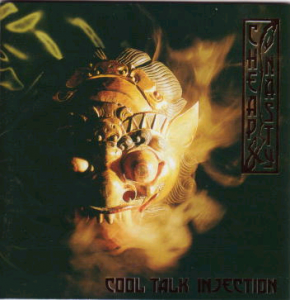 Tracklist:
1) Devil calling
2) Ain't coming together
3) Silent scream
4) I know this
5) Ambition
6) Bad man's dream
7) Drive
8) Dangerous ways
9) Lucky dice
10) $5 emotion
11) One more time
12) Shadow me
13) Ecstacy
14) The trap that Venus laid
15) Healing touch
16) End of time
Lineup:
Nasty Suicide – Lead vocals, guitar
Timo Kaltio – Guitar
Alvin Gibbs – Bass, lead vocals (on $5 Emotion and The trap that Venus laid), backing vocals

Les Riggs – Drums, backing vocals
UPDATE: Les Riggs (thanks for passing by!) wrote to me some time ago (on…July 2014!) to inform me that Gibbs sang the main vocals for two of the songs of the album. I updated the information on this page accordingly. Late is better than never, I guess… :)
This second, and sadly final, release from ex Hanoi Rocks member
Nasty Suicide, is very little known and obscure. It was released only in
Japan in 1994 and the band disbanded shortly after the recording of the
album because Nasty was asked to replace Jay Hennings (ex Star Star
member, which sadly commited suicide in 1997) in Demolition 23, a band
formed by Michael Monroe, ex lead singer of Hanoi Rocks.
The album, however, has it's merits and deserved more attention than the
one that it got at the time. Even today, with the internet and such,
this CD is largely unknown (nor discogs or allmusic lists it at all, for
example).
We can identify two major directions in this work: one pointing at
vintage, classic, rock with strong blues roots and influences and one
pointing towards modern, cutting edge, hard rock, with some heavy metal
hints here and there. Sometimes the influence of Hanoi Rocks can be
found too, even if blended with those two major directions in mind.
Nasty's voice plays a key role in the economy of the band. It has a very
particular tone for an hard rock band: it's gentle, suadent, sometimes
with a whispered-like tone, with a great retrò feel. It has improved a
lot since the band's debut in 1991, "beautiful disaster" and maybe it's
at the peak, here. The songs which work better here are the ones in
which Nasty's voice fits better, musically and emotionally: songs which
aren't ultra-thight but allow some space for introspection and breath,
with a slight melancholic feel.
The opener track blends the two souls of the disc (vintage and heavy)
very well: it's an heavy (maybe the heaviest of the whole album) track
with very strong blues roots. Nasty Suicide's slow and suadent voice
fits into it very well and it's sure one of the album standpoints.
The following track also it's very good, with it's entralling bluesy
progression and it's groovy chorus which captures the listener attention
until the very end.
"Silent scream" it's a very nice song, with a slow build-up, but it's a little inferior to the previous tracks.
"I know this", on the other hand, doesn't work too well: it's a bit
heavier track, with a classic tone, but in my opinion it doesn't manage
to impress or to emerge from the average. The arpeggiato chorus is very
nice, but it isn't sufficient to elevate the song above the average
grounds.
"Ambition" is another very good song: it's a song which starts mellow
and grows progressively harder. It's slow (and costant) build-up and
release and the suadent rythm section allows Nasty's voice some space
and it works very well.
"Bad man's dream" is an hard rock song in the vein of Hanoi Rocks but it
doesn't work too well, it's nice but it sounds too much average and is
quicky forgotten.
"Drive" is a tight song with a strong retrò, slightly Chuck Berry
rock-like feel, with a very bluesy harmonica thrown in. More classic
than classic, I'd say.
"Dangerous ways" it's one of the best songs in the disc: a slow, suadent
bluesy song about a wrong love with a beautiful melancholic feel of
detachment which explodes in the chorus, with a very nice hazy, jammy,
bluesy instrumental intermission at the end. Nasty's voice it's at one
of his peaks here, it's very expressive and heartfelt. Classic rock at
his best.
"Lucky dice" is another classical hard blues song, with a bit more of
edge, but it fails to impress the listener. Nice but forgettable.
"$5 emotion" is maybe the song which has the biggest Hanoi Rocks
influence in it, Alvin's voice (this is one of the tracks on which he is given the main singing duties) tries to follow the classic Monroe's tone
and…it works very well! This is the best of the Hanoi-like songs of the
album. A very enthralling rythm section, a catchy chorus and pungent
lyrics makes it a winner.
"One more night" is a high-speed hard blues song, with a strong classic
rock vein, but it isn't very remarkable. It's pretty dull.
"Shadow Me" is a very nice introspective ballad which gets harder in the
pre-chorus and in the chorus, with a very beautiful bassline and a very
nice, sexy, slow progression, which fits Nasty's melancholic, sexy and
enthralling very well. The lyrics are very nice, as well.
"Ecstacy" is a short acoustic instrumental, which clocks in under one minute. It was meant originally to close the album.
The last three songs are marked as "bonus tracks" (and have been produced by a different producer as well).
"The trap that Venus laid" is a short acoustic song, with a very strong
Rolling Stones feel and filled with bitter irony. It's very nice but it
lacks a real climax to make it memorable.
"Healing Touch" is another very good song, among the best of the album: a
low-key, sexy, fuzzy-bluesy song which a very good vocal performance by
Nasty and a simple, but appropriate, chorus.
They saved the best for last…and "end of time" is surely the album
finest moment. A beautiful acoustic romantic ballad, filled with
melancholy and without a trace of unnecessary sugar. It's surely the
most hearfelt and emotional piece on the album, very personal and
covering a kaleidoscope of different emotions, everything works at it's
best here. The lyrics are very simple but they are very beautiful,
creating a very nice contrast between the breakup that has occured
between the two lovers in the song and the feel that the whole
relationship wasn't in vain, with the bitterness of a broken promise
that maybe, one day, will be fulfilled.
The track also has some guest backing vocals by Renè Berg, an
interesting character who played with Hanoi Rocks after Razzle's death
and released a very good solo album which went mostly ignored. Maybe
I'll write something about him, one day…
SELECTED TRACKS
Devil calling

$5 Emotion

End of Time