TYLA
XIII Shades of Black (2005, King Outlaw)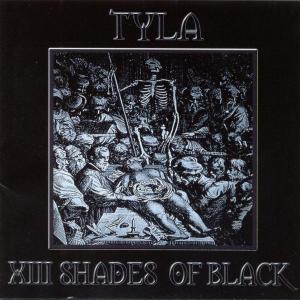 Tracklist:
1) Even Angels…      
2) The Wicked One      
3) Lost      
4) All Of Them Great      
5) Rocket Ship To God      
6) Another Friend Dies      
7) Big Hell      
8) Followers…      
9) Under The Rock      
10) Painkiller     
11) Little Boy You      
12) XIII Shades Of Black      
13) Destination Heaven
Lineup:
Tyla – vocals, acoustic and electric guitars
Yella – backing vocals
Tom Spencer – mandolin
Tyla, former leader of the legendary Dogs D'Amour, after the break-up
of his band pursued a long solo career which substantially went totally
unnoticed.
In all these years (since 1996) we had a very big range of albums from
the profilic mind of Tyla, covering various styles with various results,
mostly pursuing the road of his very personal idea and aestetic of
melancholy, a bittersweet drink in the putrid and hazy downtown pub with
the company of hookers, drunk, poets and various people beautifully
blue and forgotten.
XIII Shades of Black is maybe among the best offerings of Tyla's solo
career, among with the beautifully haunting Nocturnal Nomad and the
debut Life and Times of a Ballad Monger.
Unlike some other albums by Tyla, it has a very precise direction and is
very coherent in following it, the whole work is compact and even the
occasional fillers (Rocketship to God, Under the Rock) have a sense in
the context of the album and don't confuse the listener.
The main goal of Tyla here is, like the title says, portraying dark,
ambiguos and sad stories of humanity. Coherently with this setting, even
the "happier" songs (like the beautiful The Wicked One) have a dark and
melancholic side into them, giving them more deepness.
The themes are various and recurring in Tyla's imaginery: alchool and
drug abuse, suicide, intense and sad love stories, broken love, murder,
guilt, betrayal, doubt, painful introspection…and all of them are at
their fullest power here, both musically and lyrically. Tyla doesn't try
to make them more appealing to the casual listener and this choice is a
winner, because it allows the songs to explode in all their depth.
The style is minimalistic, intense and minstrel-like: most songs are
acoustic with some drum machine on them, some occasional electric guitar
melody and Tyla's intense singing and storytelling. No pyrotechnics and
mega-production here: just a man and his stories to tell…
There are many very beautiful songs on this album, among Tyla's
finest, like The Wicked One, the compelling Another Friend Dies, the
long and dark Followers…of a Brutal Calling and the livid Destination
Heaven. If you like Tyla's melancholy and want to take a dive into his
darkest side, give XIII Shades of Black a try. You won't regret it.
PS: The song "Even Angels…" originally was published by the Dogs
D'Amour in the album "Happy Ever After". A demo version (in my opinion,
the best version of this song) appears on the "Double T" album by Tyla.
Painkiller was later covered by the Backyard Babies. The version on this album is the original of this song.
Selected Tracks:
The Wicked One

Another Friend Dies

Destination Heaven